2017-06-22
Midsummer's Eve
Tomorrow we celebrate Midsomer in Sweden. This is the Day when Swedes really feel that they have a Special day to celebrate. It beats even Christmas. Almost everybody is out dancing around a "Midsommarstång", a tall Pole decorated with green leaves and lots of flowers. Both children and audults dances around the Pole with some traditional songs and dances. Many Swedes eat Herring and New Potatoes with some sourcream and a "snaps", which i a sort of shot with Vodka of some kind. Midsummer is a more popular Holiday than for example the "Swedish National Day" on 6th of June. A lot of Swedish flags are decorating gardens and publick places.
2017-02-18
Swedish Students are on Sporting-vacation
For for one week, Swedish students have a Sporting-vacation. It starts in the West of Sweden in the beginning of February, next week it's the children in the Southern parts of Sweden who can go outdoors (or indoores of course) to do something fun and the week after that it's the region of Stockholm who have their turn. Many families takes the week off and goes to the Northern parts of Sweden to ski and relax in ie a rented cabin, just to be sure to have enough snow to ski. Others might do horse-back riding or just play Soccer indoores.
 Winter in Sweden
2017-01-31
People Occupy a Hospital in Sollefteå
Politicians in Sollefteå have decided to close the Maternity Hospital today. Therefore some people have occupied the hospital and have spent the night in the reception on mattrasses. They will not leave until the politicians have changed their minds and promises to keep the Maternity Hospital. If it closes, pregnent women will have to travel 100 - 150 kilometers to either Örnsköldsvik or Sundsvall. They are afraid that in a worst case scenario  they will have to give birth in a car.
2017-01-09
Wolves have been shot
Twentyfive wolves have been shot in Sweden. It is only a quarter of all wolves expected to be born, but those who likes the hunting of wolves are happy. The hunting of wolves will be allowed until February the 15th, so there might be more hunting before that date.
2016-12-28
Wolf-hunting starts in January
The Government have decided that apprx 24 Wolves are allowed to be hunted this year. As usual this topic devides people in Sweden in at least two different boxes. Those who hate the wolves and would rather shoot them all and the other half who believes that these animals have the right to live in peace with nature and that mankind should leave them alone.
2016-12-13
Today We Celebrate "Lucia"
Lucia is a Swedish tradition since many years. Children and adults dress up in a white linnen and a crown of litten candles and sings traditional songs. In almost every Daycare-center, School, Church and Workplace, this day is celebrated with "Lucias", songs and also some buns called "Lussebulle", baked with Saffron and raisins, which makes the bun yellow. 
 Lucia-Day December 13
2016-10-10
Moose-Hunting Starts in the South of Sweden
Today is the first day that Moose-hunting is allowed in the South of Sweden. Therefore, Drivers are told to be cautious when driving through forest landscapes. Moose-families might be more scared and confused and run around more than usually. So drivers are encouraged to be careful and keep speed-limits.
2016-10-04
The Cinnamon Bun-day
The 4th of October is the Cinnamon Bun-day. Many Swedes will eat one or more Cinnamon Buns today! If you can't or don't have time to bake them yourself, the buns will be in every store today. Just to enjoy!
2016-04-09
A Graphic Picture Causes Discussion
There is a TV-programme in Public Service TV (SVT 1) called Fråga Doktorn which means "Ask the Doctor" and a Doctor answers questions from the Public. One of the questions was posed about some vitamins and when the Doctor answered it, she showed a picture of a woman which was produced by some co-workers in the TV studio. This Graphic woman (shown below) woke some very angry protests from the public. They did not think that this image represented an average Swedish woman.The cirtics meant that showing these kind of images only inforces fake imaginations about how a body should look like for women and girls. The editors have taken the critizism seriously and have said that they agree and will be more cautious with how they present their graphics in the future.
Graphic picture from Swedish Public Television
2016-03-29
Easter-Holiday this week
Students have a week of Easter Holiday. Many students go home to their parents to meet family and friends for the holidays. Some people go up North to do skiing, some go abroad and some stay at home with families. For the religious people Easter is more about reflecting over the State of the World, all Christian Churches are open and many people visit their Church for the cermonial Morning Services. The common factor of lifestyle is the generous tables of food This is the Holiday in which Swedes eat even more then at Christmas. It's all about Salmon, Eggs, Lamb and some Vegies. The eggs are often painted nicely with the children, with some colourful motives. When all this is done, everyone eats its own egg.   
2016-02-22
Swedish Students are on Winter-Holiday
All students in Sweden have a Winter-Holiday during one week in February. It starts with the West of Sweden on February 15 and continues throughout the country during this last winter-month. March is often regarded as the first month of Spring (except in the far parts of Northern Sweden). Many children are outdoors skiing, skating, playing Ice-hockey or just enjoying themselves outdoors. There are also a lot of kids staying inside playing with the X-Box or other TV-games or movies. Anyway, this break from school is mostly appreciated.
2015-12-19
One of the Most Celibrated Holidays just a Week Away
This last week before Christmas, many people are out shopping Christmas gifts and traditional food ingrediences for family and friends. Christmas Holidays are one of the most important Holidays in Sweden. On the 24th of December, Father Christmas is coming to all children and gives them gifts. Often there is a Christmas Tree in the house, which is decorated with all kinds of   bought or home-made decorations. If there is space enough, children and adults dances around the Christmas Tree and sings traditional songs. The Merchendice is one of the most lucrative periods of the whole year and stores everywhere have prepared for a real shopping-feast.
2015-11-08
Celebrating Fathers Day
Today, the second Sunday in November, Swedes celebrates Fathers Day. This tradition was brought here from the US. The first time that Fathers Day was celebrated in Sweden was in 1939, back than it was in June. However, they moved the date to November so it would be a bit further away from "Mothers Day", which is in May. Some people thinks that it is just a Commercial Sales-promotion and does not want to celebrate it at all. Not by buying anything anyway. But most people however gives Dad a hug at least.
2015-11-07
This is November in the South of Sweden
Very foggy, wet and guite warm (apprx 10 C) this morning!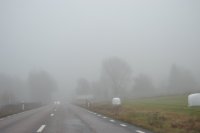 2015-11-01
This Weekend We Remember Our Dead Relatives and Friends
This weekend is All Saints Weekend, when Swedes go to the cemetery and honor their loved ones who are not here anymore. The graveyards are lit up by candles and the graves are filled with flowers and wreaths.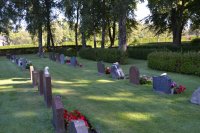 The Graveyard in Nybro
2015-10-30
Hunting season for Moose
October is the month for Hunting Moose and Roe Deer in the Swedish woods. Approximately 90 000 mooses and 200 000 roe deers are hunted down each year. The hunting seoson starts up in the north of Sweden and continues downwards. At the end of October most of the animals that are allowed to be hunted have been shot. 
 Hunting seoson for Moose and Roe Deer
2015-10-11
Beutiful Colours of Swedish Autumn
This picture is taken today in Orrefors, Nybro County in the south-eastern Sweden. The temperature is about 10 C degrees and it is a lovely morning.
 Orrefors, Sweden
2015-04-10
Heavy people is in less danger of getting Alzheimer
According to a Survey which will be published in the Medical Journal, "Lancet",  some scientist have found that people who are heavier than average are at less risk of getting the Alzheimer-deseas, compared with skinny people. This theory is questioned by some other scientists. But on the other hand, some others state that this theory has been discussed for some time. They are glad that it now has been prooven in theory. 
Boarding school closed down
Lundsberg Boarding School were compelled to close down immediately due to some students who abused other students at an opening cermony last week. Parents, students and teachers are in chock. The Schoolinspection Authority of Sweden decided to close down the school for at least 6 months. The school had been warned several times in the past for not handling bullying among students in a satisfactory way.